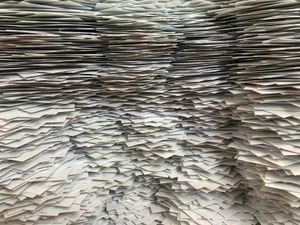 Why should I hire a resume writer? 
Do you know exactly what employers are looking for in their candidates? Do you know that if you don't have the right keywords or even format, your resume will be one of the 80% of resumes that are automatically kicked out of consideration? Are you a wordsmith? Answering no to any of these questions leads to a failure in the process. The good news is that I emphatically answer YES! to all those questions. 
When the national unemployment rate is high, the competition for every job is tough, with so many competing for every job. When the unemployment rate is low, the competition is just as tough, because that's when good candidates fight for career advancement. There's never a time when a subpar or outdated resume will be good enough. How long can you afford to job search with a resume that isn't delivering your strongest message? Two weeks? Two months? Two years? Invest in your career advancement. A stellar resume, confident interview skills and a sharp, catchy LinkedIn profile lead to career-boosting conversations! 
So…Why ResuMAYDAY? What makes you so special? 
ResuMAYDAY is special because I write resumes a little bit differently than everyone else. It's that difference that will put you above your competition. I strive to create a resume that is singularly customized to you - no templates, no boilerplate language. In real life, no one would describe themselves as "a hardworking, loyal, experienced professional who multi-tasks, has excellent interpersonal skills and finishes projects on time and under budget." (And if you think that's a good summary statement, let me show how we'll do better for you.) 
Who will actually be writing my resume? 
I have an amazing group of resume experts on my team, so you'll be working with one of us. If it's not me, that's great news! I only work with people who are better than I am.  But I never check out. Once the documents are written, I personally review and approve every document myself. This means you have the assurance that two resume experts have scoured over, and perfected everything before you even see it! 
Do you write cover letters, too? 
Every resume comes with a cover letter and is figured into the price already. I believe that a cover letter should be sent out with every resume, because it's another opportunity to convey your message. Omitting a cover letter is a missed opportunity! Trust me, you'll want that cover letter sometime, so the best time to write it is with the resume. 
Do you work with career changers? 
Yes! I love every resume I write, but I admit my favorite resumes are those that require a bit of puzzle-solving. Career transition resumes require writing a story that hasn't happened yet. Every week I work with people who are transitioning to a new industry, field or role. 
Can I meet with you in person? 
Not usually. The resume work is all done over the phone and email. Trust me, after doing this for 20 years, I know that this process is most efficient for all of us. However, some of our work is done in person. If you schedule an Interview Skills Session, it's best (if possible) for that to happen in-person. If you're not able to travel to the Chicagoland area, we can do that work over the phone or Zoom. 
Do you work with people outside of Chicago? 
Absolutely! As a matter of fact, at any time we have more clients outside of Illinois because of our affiliations with so many business groups and national recruiting firms. 
Do you offer a satisfaction guarantee? 
Most certainly. We do so much work on the front-end of the project that when it's time to write the resume, we have an excellent grasp of your goals, and how our work will help to fulfill those goals. In 20+ years, we've never had a client complain that we didn't do our job or that the resume wasn't going to work for them. We don't offer a money back guarantee, because there are so many variables in the job search process that are outside of our control. But we do guarantee that if necessary, we will work with you through the revision process until we have a finalized product that meets your needs and makes you feel confident. We put heart, soul, intellect, wordsmithing and unparalleled expertise into every project. 
Can I see samples of your work? 
Only if you're friends with a former client and they decide to share their resume with you. Every resume that we write is unique to that person, is confidential, and (since they paid for it) is the property of that person. Likewise, I promise that I'll never use the resume we write for YOU to market myself. 
What if I want to update my resume later? 
Most of our clients come back to us within a year or two to add new information. We love catching up with former clients! Updates are quick, easy and inexpensive. We price it out depending on when we worked with you the last time. And you'll be able to update/revise your resume on your own if you want to. We deliver our resumes by email as a Word document, so you have full access to it. You'll easily be able to make updates as your career progresses. 
I haven't looked for a job in years. What do I need besides a resume? 
We will be there for you every step of the way! When we create your customized program list, it will include an entire 'menu' of services to select. You can build a whole program, or opt for one service, and add on as needed. The best approach is to clearly define your primary and secondary career goals, which may require coaching. Once you're confident those goals are well-defined, we'll focus on the resume and LinkedIn profile. (Not yet convinced that you need a LinkedIn profile? PLEASE call me to chat about that.) Once those critical tools are completed, we can talk about additional coaching. How are your interview skills? Yes, you'll have a great resume but that won't matter much if you can't close the deal at the interview table. Or perhaps you want coaching on how to best use (and develop) your network. The smartest job seekers quietly turn their network into a job search sales team. I can show you how to do that! And of course, we'll identify other job search activities that will be most effective for you. 
I don't think I need a ton of coaching, just a little. Can you do that? 
Of course! We can book a 30 or 60-minute phone call to chat about ANY issue. It's an affordable power-boost to your job search.  
What are your prices? 
Ah, you've noticed that we don't have a price list on the site. Don't let that scare you! The reason I don't list prices is because we don't have a 'one size fits all' price structure. We look at the entire scope of the project – not just your career level. But I can tell you that with just a little bit of information from you, I'll be able to put together a personalized program list that expains the entire process.  
Here's my promise to you: I won't spend your money needlessly. Yes, This is an investment…but one with solid returns. We will deliver the BEST resume you've earned. 
"I just finished utilizing ResuMAYDAY for both resume creation and career assessment. It was an incredible process and well worth the money spent. The final resume is incredible! I couldn't believe it was me! If you are going thru a career transition, or find yourself 'stuck' like I am after 15 years in the same industry, you really need to have a career assessment or career coaching. You will find it infinitely helpful and enlightening!"  
M.L., Pharmaceutical Sales