You'd be Prettier If…
Do I really even need to finish this sentence, or did you finish it in your head already? 
A friend of mine (long-time business owner and general force of nature) incredulously told me that someone lobbed this grenade at her the other day. I laughed and asked if I should bring lillies to his funeral. 
This is the type of statement (not the only one) that men AND women) deliver to keep a woman from claiming what she's earned, or standing up for herself, or stating her opinion. Similar put-downs such as 'unkind' or 'unpleasant' or 'shrill' or 'bossy' or 'bitchy' is code for "you are here to make me comfortable, but now you're making me uncomfortable". It's how women are told (in not so many words) to not ask for that raise or promotion, or not to speak up during an important meeting. It's a way to make women doubt themselves, and ultimately change themselves to fit within the limiting expectations of others. Why does this work? It's simple. We have raised generations of women to prioritize pleasantness over self-expression; to demure instead of speaking up.
Katniss Everdeen weighs in…
In the past 10 years there have been numerous studies, polls, white papers, articles, and round-tables discussing the negative impact of keeping women in their 'feminine lane', mostly written and generated by corporate leaders and sociologists. Celebrities have also weighed in with their personal experiences. In 2015, actress Jennifer Lawrence penned an essay where she states, "All I hear and see all day are men speaking their opinions, and I give mine in the same exact manner, and you would have thought I had said something offensive. I'm over trying to find the "adorable" way to state my opinion and still be likable! F– that. I don't think I've ever worked for a man in charge who spent time contemp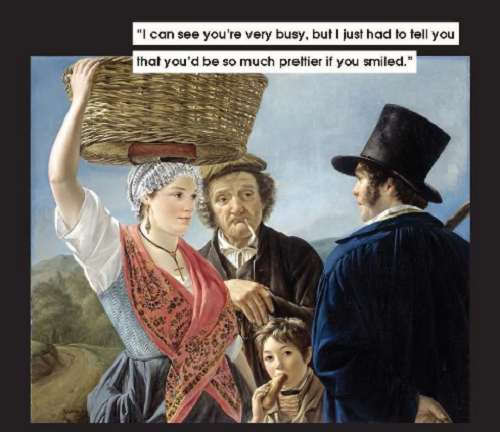 lating what angle he should use to have his voice heard." Here is the entire essay, if you're interested.
What You Can Do…
Now, I must apologize for this next part. I wish I were addressing the people who do this to others. They're the ones who really need to adapt, but it's not likely they're seeking out this kind of information. So instead, I'll speak directly to the people who are mostly victimized by this mentality and behavior. What can women do to stop this from happening to them? A few things. 1) Find a work or social ally. Team up with other women who experience this. Stick up for each other in meetings or on social media and call out bad behavior when it happens. 2) Find your voice at a pace (and volume) that works for you. At home, practice how you would have wanted to respond in those past situations. When they do happen again, because they will, remain calm and diplomatic. (I admit that's something I have not mastered.) Practice, rinse, repeat. Why is this important? The person doing this to you now will not be the last. The sooner you learn to shut it down, the better. You got this.